KIDAMI Folding Magnetic Travel Chess Set with 2 Portable Cute Bags for Pieces Storage, Lightweight for Easy Carrying (12.4 x 10.6 x 0.8 inches)
PREMIUM TEXTURE: Well-crafted chess pieces and board plus the unique grain texture , which have you get a classic aesthetics and smooth hand feeling.
GREAT PORTABILITY: There are two different storage bags can be perfectly hid inside the folded chess board, which are able to organize all pieces orderly, meanwhile easy to carry.



KIDAMI, Long may your joy!
Playing with the right educational toys can greatly enhance their learning ability.
KIDAMI is committed to providing high-quality toys and games for children, and superior service for each customer. Our goal is to offer the safe and durable products to you.
We sincerely wish that you have a wonderful online shopping experience with us.
Welcome your arrival !

IMPORTANT NOTICE
The Vegeta Direct seller is the only authorized seller and we never permitted other sellers to sell Kidami products. We recently received some customer complaints against other sellers' chess set for quality problems. Please be aware of that to purchase Kidami chess set from the "Vegeta Direct" seller can avoid any unnecessary troubles, and enjoy our best products and professional service.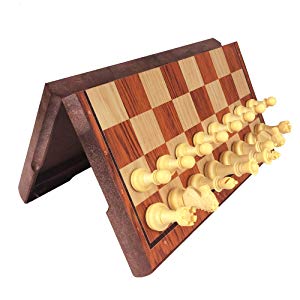 Elegant Craftsmanship with Suitable Magnetism Design
The KIDAMI chess set is made from durable plastic with wood grain texture, smooth to touch. The chess pieces are able to be held on the board within a limited degree. The magnetism design can avoid the disruption by bumps during the trips or outdoor activities. All of these are confidently may you enjoy an elegant mental game.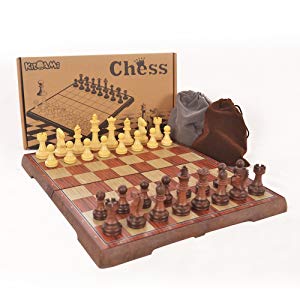 KIDAMI Chess Set, the Best Gift, the Best Offer!
KIDAMI is always aiming to offering a tremendous experience and service for every chess enthusiast with the most valuable product.
Add it to cart now, let KIDAMI magnetic travel chess set be the best gift for your chess lover.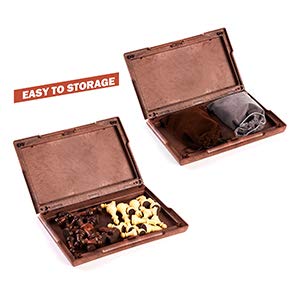 Folding & Storage
​​The foldable chess board can turn into a storage box, and comes with two storage bags that help organize pieces neatly and orderly.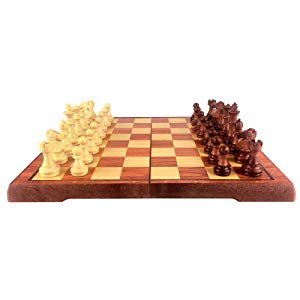 Travel Companion
Open size of the board measures 12.4" x 10.6" x 0.8" while folded size measures 6.1" x 10.6" x 1.6". Its portable size makes it easy to put into the bag and have an awesome game anywhere with your opponent.
Ready to Fly
The chess pieces are built up with moderate magnets, which meets both the EU and US freight criterion. You can safely take it on the plane.