KIDAMI, may the kids' childhood full of joy!
Hands-on learning everyday with the right educational toys can greatly inspire kids' imagination and develop their cognitive skill.
KIDAMI is committed to providing high-quality toys for children, and superior service for each customer.
Our goal is to offer the safe and durable products to you. We sincerely wish that you have a wonderful online shopping experience with us.
Welcome your arrival !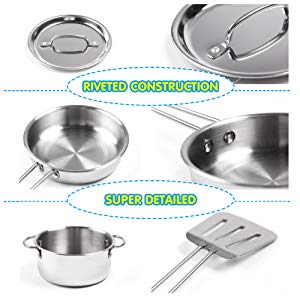 We know what you CARE about
All Kidami products are made up of high quality material.
This cooking playset is made of hand-polished, thick stainless steel and real wood, with no sharp edges. It will not get bent or broken even after heavy use. All handles are sturdy riveted for safe play, with obviously lower choking hazard. Very safe for children to play with.
Awesome gift for kids
Larger-sized stainless steel pots & pans playset comes with a commonly used size for bigger kids like 2 yr+. Pots and pans are 5.1" in diameter, while cooking utensils are 7.3" long. It almost goes with every type of kids' play kitchens, too!
Little chef is coming to cook for you!
Kidami Cooking Set is perfect for young chef. Not only its various accessories, but also its realistic design, all inspire children to cook as parents do. Little chefs are coming to cook a well-balanced meal for you.
What is in the box?
16 total pieces of accessories--4 metal utensils and a wooden one, 4 metal pans and pots, come with a lid that fits them all. "Yummy" play foods are included, with a drumstick, a banana, a strawberry, en egg, a broccoli and a bunch of grapes.