KIDAMI 11 Pieces Kitchen Pretend Toys, Stainless Steel Cookware Playset, Varieties of Pots Pans, Kids Cooking Utensils for Kids (Fit Little Baby Tiny Hands) (Colorful)
Made with sturdy paint technology. Colorful cookware can greatly attract kids' attention, stimulate kids' vision. Hands-on learning can enhance kids' action ability.
4 cooking utensils all measure 5.5" long, while pots and pans are 3.7" in diameter. A tiny but delicate playset, with prefect size for babies or toddlers to hold.


KIDAMI, may the kids' childhood full of joy!
Hands-on learning everyday with the right educational toys can greatly inspire kids' imagination and develop their cognitive skill.
KIDAMI is committed to providing high-quality toys for children, and superior service for each customer. Our goal is to offer the safe and durable products to you. We sincerely wish that you have a wonderful online shopping experience with us.
Welcome your arrival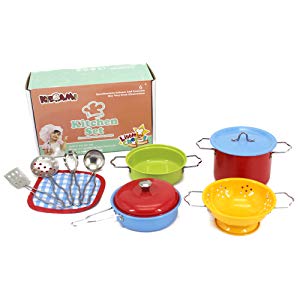 Awesome Gift for Toddlers
11 cute items are packed in a color carton, including 1 colander, 1 pan, 1 pot, 1 stock pot, 2 lids, 1 mat and 4 different cooking utensils. The length of utensils is 5.5 inches,the other's diameter is 3.7 inches.
Super Durable, Break-resistant
Made of high-quality hand-polished stainless steel, which will be resistant to your kid's throwing, dropping or banging them around during playing. Handles are riveted on pots and pans tightly, much more sturdy and smooth for kids.
Choose KIDAMI, No Worry!
How to pick out a pretend toy suitable for kids perhaps troubles you. You might worry about sharp edges causing hurt, breaking-off part causing choking hazard, or just wonder if it is too easy to get deformed, scratched or rusted.